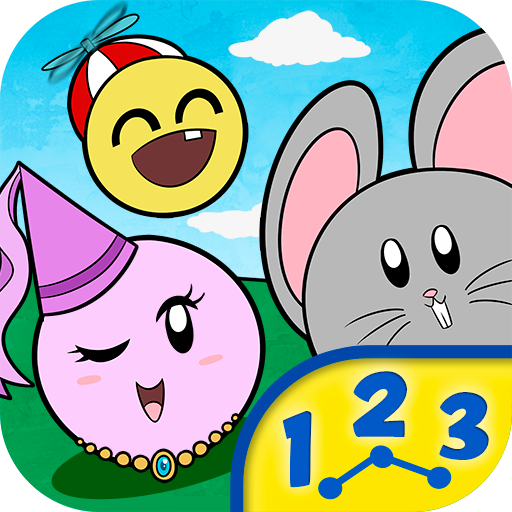 123 Dots
123 Dots entertains kids while they learn to count, sequences and numbers with their inseparable friends: the Dots.
★ 100% safe for children. Includes parental control ★
Designed for children from 2 years old.
Try free!
---
123 Dots entertains kids while they learn numbers from 1 to 20 with their inseparable friends: the Dots. The game includes more than 100 educational activities for your child to learn while having fun. 123 Dots also helps children develop important basic skills such as creativity, basic skills, attention span and memory.
123 Dots is 100% safe for children for children, and includes parental control and with absolutely no advertising.

In addition to teaching numbers and counting, your children can learn geometric shapes, letters, the alphabet and sequences. All in one!
Those learning games are translated to 8 different languages: English, German, Spanish, Italian, Portuguese, Russian, French and Swedish. Preschoolers can also learn colors, geometric shapes, numbers, animals, foods and vehicles in other languages!
★ EDUCATIONAL GOALS
✔ Learn the numbers.
✔ Learn to count to 50.
✔ Remember numerical order: sequences.
✔ Develop mathematical skills.
✔ Develop basic skills.
✔ Expand vocabulary with: animals, geometric shapes, colors, professions, objects, clothing, nature, etc.
✔ Develop literacy.
✔ Learn the letters of the alphabet
★ DETAILED DESCRIPTION
123 Dots has educational games for kids from ages 2 to 6 years old. With spectacular results, the games help children learn how to count numbers, as well as improve their language acquisition skills by expanding their vocabulary. The menu interface is attractive and simple so that kids can play alone without the need of an adult.
The fun Dots will lead the way and teach kids by creating an exciting and diverse interactive experience that mixes gameplay with learning at all times. Kids will stay engaged as they interact with the Dots and make them jump and play.
★ EDUCATIONAL GAMES
✔ COUNT FORWARD
In this educational game, the Dots must be ordered from smallest to largest. With this activity, the child will learn to count and strengthen his knowledge of numbers.
✔ COUNT BACKWARD
In this activity, preschool children should count backward until the image is completed to help them develop their most basic math skills.
✔ SEQUENCES
Kids will develop their logical thinking by joining the Dots according to the simplest logical series: odd and even numbers.
✔ ALPHABET
In those learning games, preschoolers must complete the image by ordering the sections according to the letters of the alphabet in capital letters.
★ SUBSCRIPTION DETAILS:
- This app offers the opportunity to subscribe to 123 Dots Unlimited for a month with a trial period of 3 days.
– You can cancel your 3-day trial subscription at any time in the configuration of your Apple account.
– Your subscription will be renewed every month, 24 hours before the end of the current period. The corresponding amount will be charged to the credit card on file through your Apple account, unless the automatic renewal option is deactivated at least 24 hours before the end of the period.
★ CONTACT

We want to hear your opinion! Please contact us with any questions, technical problems, or suggestions you may have. Or, feel free to share anything else you like! Write to us at info@didactoons.com