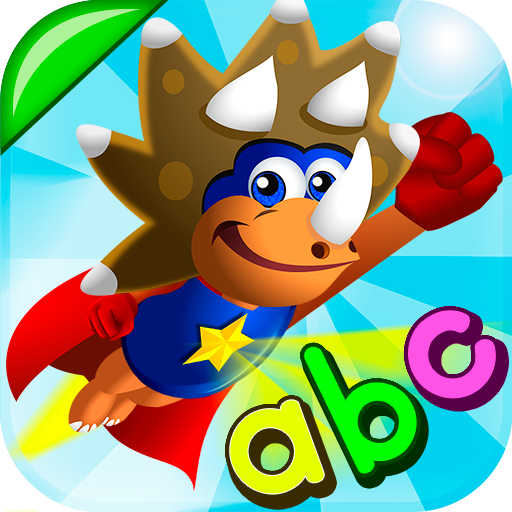 ABC Dinos
With spectacular results, the game makes it possible to learn letters and improve reading, regardless of each child's learning level.
★ The app has various levels of difficulty to adapt to each age★
Designed for children from 3 to 6 years old.
Try free!
All this learning is wrapped in a magical story full of emotions, action and fun surrounded by funny characters such as Finn's family, our Dino, and the "crazy" ogres and their dragons.
¡Ayuda a Finn a liberar a su familia recogiendo las letras mágicas que harán transformar a los ogros en divertidos animales!
✓ ENGLISH VOICES
We have included English voices to repeat the literacy activity words and statements. Doing so, besides managing to make our activities accessible to all ages, we also can present auditory recognition activities, which are so valuable at this stage of their learning (Preschool and 1st grade).
✓ GOALS
★ Learn to read
★ Visual and auditory memorizing
★ Discrimination of vowels and consonants
★ Recognition of letters of the alphabet
★ Improve understanding
★ Learn to draw the outline of all the letters of the alphabet (vowels and consonants).
★ Expand vocabulary with: animals, professions, objects, clothing, nature, etc.
✓ LEARNING GAMES
★ WRITE THE LETTER
In this educational game the kids have to draw the shape of each letter. As a prize they will be shown a picture that begins with that letter. The preferred writing mode can be chosen: joined up or printed handwriting. At the same time kids will have the possibility to trace each letter of the alphabet in uppercase or lowercase..
★ WORD FORM
This activity consists on building level-appropriate words by dragging each letter to its corresponding place. And since we know that this quite difficult, we will help the little ones by changing the shape of each letter as if it were a puzzle piece that fits in. In this way all children, regardless of their age, can progress with word formation and, additionally, expand their vocabulary and start learning to read.
★ FIND THE LETTERS
This is, for sure, one of the funnest learning games in our APP. The child has to find the matching letter of two cards as quickly as possible. This game aims to strengthen visual recognition of vowels and consonants.
★ WHICH LETTER DOES IT BEGIN WITH?
In this activity kids will hear a word and see its picture. They have to guess the letter that the word begins with. The auditory recognition of each letter of the alphabet and the expansion of their vocabulary are the two main objectives of this educational game.
✓ ADAPTS TO YOUR AGE
At the beginning of the game it will ask about the child's level so you don't need to worry if your son or daughter doesn't yet know how to read or write. It adapts to their learning level and you can choose which letters you want to work with, and repeat at any point.
✓ TRY IT, IT'S FREE
ABC Dinos is free, so, what are you waiting for to download it? There is an in-app purchase which allows you to unlock the entire game. You can choose any letter of the alphabet and complete the whole adventure.
- Links to the game

Android: https://play.google.com/store/apps/details?id=com.Didactoons.ABCDinos

iOS: https://itunes.apple.com/app/id1445583038

Web: http://abcdinos.com/
Video Youtube: https://www.youtube.com/watch?v=NMOd79ADxnw